Disciplines
Canoeing offers something for everyone, young or old:

From calm steady paced touring on canals and placid waters to competitive sprint and marathon racing.

From facing the challenge of slalom racing down white water to performing the ultimate playboat moves while 'playing' and 'shredding' the river.

From exploring fantastic coastal scenery by sea kayak to surfing the waves on the beach.

Or perhaps you want to be "top of the league" in the team game of Canoe Polo!

Canoe for enjoyment, to keep fit or, and if you have kids, paddle as a family and enjoy the experience together. At GSCC, we aim to encourage you to try ALL of the above! And have FUN!

If you fancy a go at any of these disciplines just ask a coach or committee member and they will point you in the right direction.
Most members will also be willing to let you have a go in their boat as well.
To view information about a specific Discipline, please click on its image, or contact our Disciplines Officer (Click on Contact Us at the bottom of the page).
Canoe Polo
Canoe polo is a team ball sport played in specific polo boats, with polo 'legal' paddles, bouyancy aids and helmets.

There are up to 8 people on a team, 5 on the pitch at any one time and up to 3 substitutes.

The aim of the game is to score goals by throwing the ball into your opponent's goal, suspended 2 metres above the water.

Our club plays in the Yorkshire regional league, and also the National League.


Latest News
Marathon & Sprint
Marathon races are long distance races, where as Sprint Races are over a much short distance.

Both types of race use very similar boat. They are long, pointy, have a rudder and most people tend to find them a bit wobbly!

Our club has it's own Marathon race as well as a Sprint competition each year, and we host two British Canoeing marathons in April and October.

Anyone from any club can enter this British Canoeing Marathon in whichever division is appropriate.



Latest News
Slalom
The aim of canoe slalom is to navigate your way through a series of gates set over the river in the correct order as quickly as possible. This can be on flat water or in whitewater rapids.

You get time penalties for hitting the gates and a larger penalty for missing them out entirely. Some gates have to be paddled through in an upstream direction and others in a downstream direction.

You can compete in slalom in multiple categorys and craft, the main different types of craft are K1, C1 & C2.

K1 is a single person sat in a kayak with a 2 bladed paddle, C1 is a single person kneeling in a Canoe with a single blade, and a C2 is two people kneeling in the same canoe, each with a single blade.

Our club holds an annual slalom event on the river Ancholme that is great for beginners to have a go and see what slalom is like.



Latest News
White Water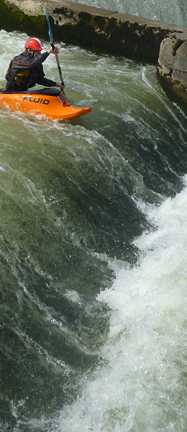 White water paddling involves paddling on moving water, usually a river but there are man made courses designed for white water paddling (such as Tees Barrage or Holme Pierrepont).

These are graded in difficulty from grade 1 to grade 6. Grade 1 can be described as slightly moving water with no obstructions and grade 6 is usually considered to be unrunnable.

The club makes regular trips to Sleningford Mill at West Tanfield (near Ripon, Yorkshire).

This is mostly grade 2 water and is great for beginners and more experienced paddlers alike.

There's a very convenient, paddler-friendly campsite with river access and it makes a great weekend away.




Latest News