Sunday 24th July was our Club Marathon. All ages and categories paddles the 5km "round the Island". Thanks to all our paddlers who participated and to the coaches and helpers who made it a great day.
Photos Pre-Race and of the Officials can be viewed by clicking here
Photos of the race starts can be viewed by clicking here
Photos of the racing be viewed by clicking here
Photos of the certificate presentation can be viewed by clicking here
All photos can also be viewed on our Facebook page. www.facebook.com/FriendsOfGSCC
Downloading Details
From the gallery, photos can be viewed full screen, and downloaded at 1600×900 resolution. If you want any in higher resolution, please email Martin at publicity@gscc-online.com
On Facebook, go to our page and scroll down the time line, or look in "photos", then "albums". Photos can be downloaded at 2048×1152 resolution by right clicking and then "save image (or target) as.." If you want any in higher resolution, please email Martin at publicity@gscc-online.com
If you visit our facebook page, don't forget to "like it", then you will get all the latest posts on your newsfeed. If you want me to tag you in photos, because our page is linked to my account, you'll have to be my friend, so send me a friends request (https://www.facebook.com/martin.heywood1)
Here's what's in this newsletter:
Our paddlers at Howsham Weir Slalom (left to right):
Matt Parker, Julian Selby, Izzy Parker, Jamelia Snow, Tom Kelly, Tom Shoulder (lying down), Caitlin Marley, Sian mitchell and Neil Marley. Not shown is Dan Snow.
Howsham Weir Slalom Results
Our paddlers did really well with several first places and promotions.Our paddlers and their results were:
K1M
Neil Marley: div 2 mid table
Julian Selby: div 3 first master sat
Dan Snow: div3 mid table
Sam Kelly: div 3 first J12
Owen Kelly: div 3 1st and 3rd
Tom shoulder: div 4 1st junior
Matt Parker: div 4 Sunday only
K1W
Caitlin Marley: div 2
Sian Mitchell: div 3
Jamilia Snow: div 3 1st J12 Sunday
Izzy Parker: div 4 1st J12 Sunday only
C1M
Neil Marley: div 3 1st sat 1st Sun promoted to div 2
Julian Selby: div 4
C1W
Sian Mitchell: div 4 1st promoted
C2
Sian Mitchell / Julian Selby: div 2/3
For the full results on Saturday click here
For the Full Results Sunday click here
Howsham Weir Photos
Photos taken by Kate Kelly can be viewed by clicking here

Club Marathon 2016
Don't miss our club marathon on Sunday 24th July. This is open to all paddlers except perhaps complete beginners (though this is at the discretion of the senior coaches), and even if you don't think you are very fast it's an excuse for a nice paddle, hopefully "round the Island. The actual course will be decided on the day depending on weather conditions and river conditions (weed is building up on the old Ancholme, but was clear today, 16th July.)
Racing starts at 10:30 so please be at the boathouse for registration which is 9:30 to 10:00am. There will be hot dogs after racing has finished.
Litter Pick
The Ancholme River Trust (which we are members of) is having a litter pick on the Old Ancholme on Saturday 23rd July. For bank litter picking meet at County Bridge. If you want to pick from a canoe. Keelie will be taking one 9or more). For more information, including meeting times, contact Keelie by clicking here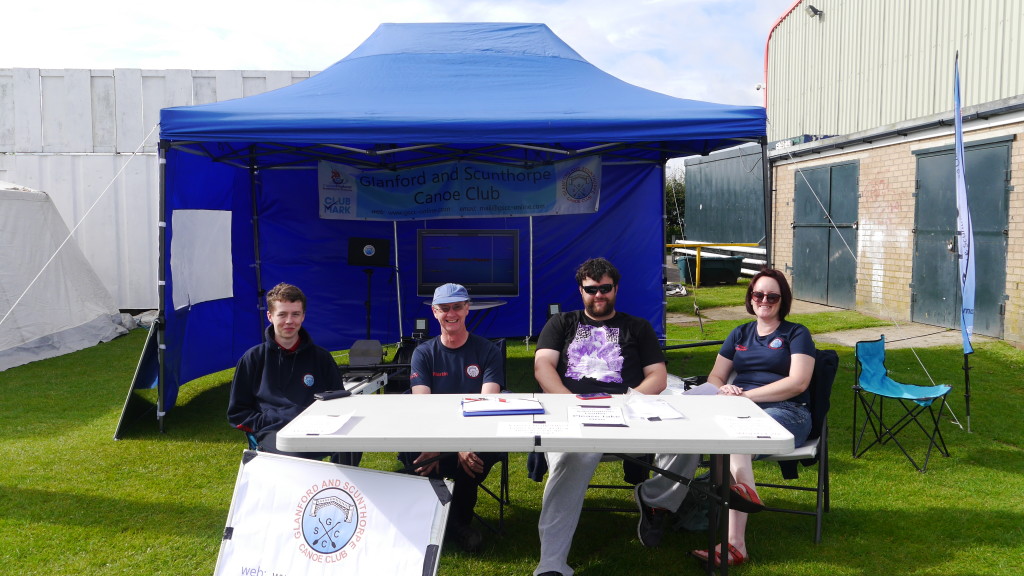 Our Brougthon Show team: Mikey, Martin, Steve and Vicky. not shown is Keelie (He had a lie in!). 52 non members had a go on our ergos. All the photos can be viewed on our website by clicking here
Howsham Slalom 9th & 10 July
We are attending the Howsham Slalom on the 9th and 10th of July at Howsham Mill near York. This is a Div 2, 3 and 4 event so is suitable for complete beginners.
It's the perfect event to try your hand at slalom racing with club members on hand to help and advice. for more information contact Neil Marley on coaching@gscc-online.com of have a chat with him on the river bank during our evening river sessions.
Driffield Canal Paddle 19th June
A couple of weeks ago 20 of our members paddled the Driffield Canal From Driffiels town centre to the village of North Frodingham. Photos from the day can now be viewed by clicking here, or by visiting our Facebook page www.facebook.com/FriendsofGSCC 
Downloading Details
From our gallery on our website photos can be viewed full screen, and downloaded at 1600×900 resolution. If you want any in higher resolution, please email Martin at publicity@gscc-online.com
On Facebook, go to our page and scroll down the time line, or look in "photos", then "albums". Photos can be downloaded at 2048×1152 resolution by right clicking and then "save image (or target) as.." If you want any in higher resolution, please email Martin at publicity@gscc-online.com
If you visit our facebook page, don't forget to "like it", then you will get all the latest posts on your newsfeed. If you want me to tag you in photos, because our page is linked to my account, you'll have to be my friend, so send me a friends request (https://www.facebook.com/martin.heywood1)