Our MP Andrew Percy's thoughts on his visit to our Ergo stand at the recent Ancholme River Festival is on his website: click here.
and there is also a report in this week's Scunthorpe Telegraph: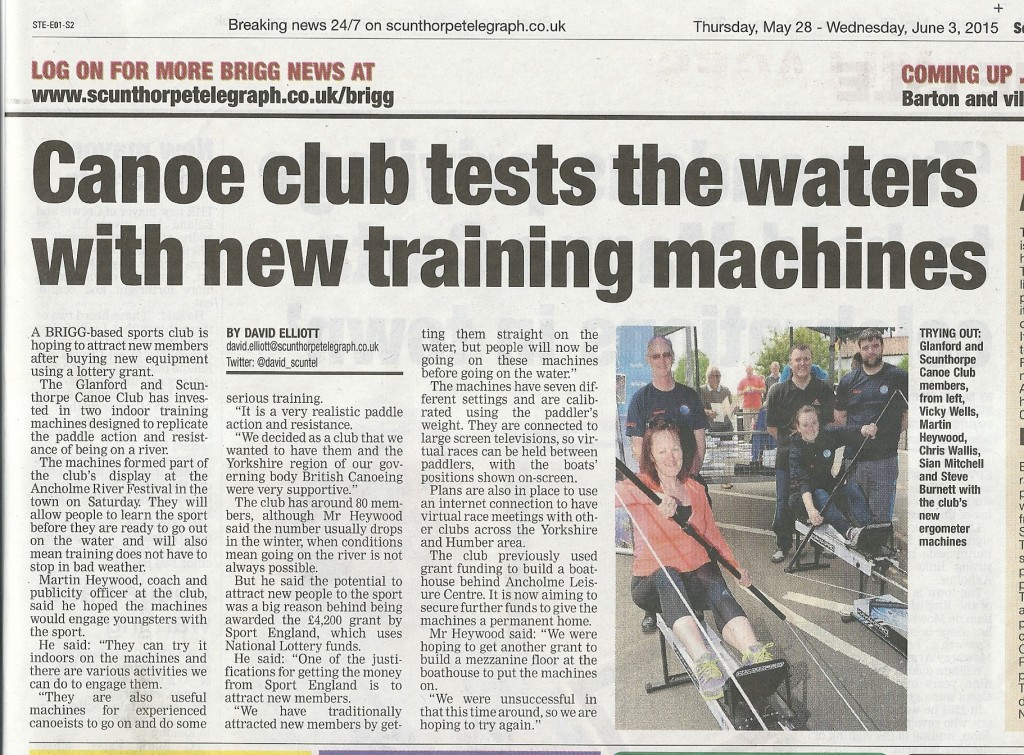 This year's festival was a great success, and thanks to the coaches and helpers, and to our young paddlers who put on the slalom demonstration event.
There are several folders of photos to be viewed in our gallery:
For the ergos in the market place click here.
For Brigg and Goole MP on the ergos and with some of our paddlers click here.
For the slalom click here
For the Go-Canoeing session held at the Ancholme Rowing Club click here.
The winners of the Ergo challenge were:
8 to 12 male: Robert Unwin :24.6 seconds, winning 4 weeks coaching donated by GSCC
8 to 12 female: Rosie Wellings: 36.7 seconds, winning 4 weeks coaching donated by GSCC
13 to 17 male: Angus Haswell: 21.9 seconds, winning a £25 iTunes voucher donated by Simpkins Kenny of Brigg
13 to 17 female: Emma Bradley: 27.6 seconds,winning a £25 iTunes voucher donated by Simpkins Kenny of Brigg
18 & over male: Nick Dobbs, winning a £25 iTunes voucher donated by Intelect Engineering of Grimsby
18 & over female: Jeanette Patterson: 29.4 seconds, winning a £25 iTunes voucher donated by Intelect Engineering of Grimsby
Thanks to all club members who competed in our slalom demonstration today at the river festival. Here are the results. A report and photos will appear here soon.
K1 Male
Ben 52
Neil 63
Frazer 81
Cameron 82
Oliver 102
K1 Female
Caitlin 68
Sian 72
Ellie 84
Macey 104
Photos of paddlers in our Marathon can now be viewed full screen in our website gallery. Click here.
Photos of the prize winners can be viewed here
And they can all also be viewed and commented on, on our Facebook page here and here
If you want to be notified on your Facebook wall when photos are posted to our page, go to our page using the button below and click on "like". If you want me to tag you in the photos, I'm afraid you'll have to "like me" (Martin Heywood)!
Don't forget the moving water slalom competition at Bradford & Bingley Canoe Club this weekend.
It is ideal for all our paddlers who have been to Sleningord (Tanfield) at least once. For more information contact our slalom rep, Neil Marley, at slalom@gscc-online.com or telephone Neil on 07719 582958
It is also the Malton and Norton Canoe Club marathon is on this Sunday – book in at control by 11am.  It is held on the River Derwent starting …in Malton at their club house.  Races from 2 miles for the Lightnings and then 4 miles upwards for the main divisions.
CLUB MAILING LIST:
Are you getting emails from our club? If you have given us your email address when you joined, you should be on our mailing list, though some newer members may not be yet.
If you think you should be on the list, but are not receiving emails, please check your spam/junk folders. Nearly half of our members are not opening the emails so perhaps this is why.
We could also have miss-spelt your email address, or maybe you didn't give us it when you joined. If you want to receive emails, with all our latest news and information, and you are not getting them for whatever reason, please email publicity@gscc-online.com and we will add you. Thanks.
The Doggy Paddle is an 18 mile charity paddle for Guide Dogs for the Blind, a flatwater recreational paddle from Leamington Spa to Stratford-upon-Avon, taking place on the Sunday 17th May 2015. Kayak/canoe this beautiful stretch of the River Leam & Avon. The trip takes you from Royal Leamington Spa, through the spectacular grounds of Warwick Castle and Charlecote Park, ending in historic Stratford-upon-Avon. See the website (www.doggypaddle.org.uk) for more details.
We are supporting the second Ancholme River Festival in Brigg Market Place. Here is what we are doing on the day:
Ergo Challenge!
Race each other on the big screen on our new Kayak Ergometers, over a set distance, in our gazebo in the Market place.
There are prizes for the general public for fastest male and female adult, junior and under 12's. This is open to everyone to have a go, including club members, but please note that GSCC members and Brigg Bomber competitors are excluded from winning a prize! (unless we can get more prize donations! Can anyone donate prize, either privately or from your employer? If so, please conatct Pete Keel at building@gscc-online.com).
Go Canoeing Try-it session!
May 23rd-31st is National Go Canoeing week and we are running free sessions to encourage people of all ages and abilities to pick up a paddle and get out on the water!
These sessions, at 1:30 pm and 2:45 pm, are for the public, including family and friends of our club members! Booking not required, but please register at our stand on the day.
Slalom Challenge!
We will have a slalom course set up near Country Bridge and are running a demonstration event for the public. This event is open only to all GSCC members, regardless of experience, and will take place early afternoon. Members must enter beforehand if they wish to compete. We really want to put on a good demonstration, so please enter if you can. Put your name on the list in the boat house to enter or email slalom@gscc-online.com
To download the poster below click 
here
,
Volunteers Required
Our coaches will be busy running the three events above, so we need volunteers to help on the day manning our stand in the Market Place.
Encouraging the public to try the Ergo's and have a paddle
Directing public to the go-Canoeing session based at the Rowing Club jetty
Directing the public to watch the slalom demo.
If you can spare some time, please email Pete Keel at building@gscc-online.com or talk to a committee member at the river on Thursday.